The Thaler Holocaust Remembrance Fund is proud to announce our 2018 Yom HaShoah Guest Speakers, Michael Bornstein and his daughter, Debbie Holinstat. The authors of Survivors Club: The True Story of a Very Young Prisoner of Auschwitz will be speaking at various venues in Cedar Rapids and Mt. Vernon, Iowa, in April.
See below for venues, dates and times.
Michael Bornstein is one of the youngest survivors of the Auschwitz concentration camp, having withstood seven horrifying months as a four-year-old. This could be considered nothing short of a miracle, when many other children often survived only weeks. Bornstein was carried out of the camp by his grandmother in 1945, and spent much of his life trying to put the experience behind him. In a 2017 interview with Esquire magazine, Michael's daughter and co-author, Debbie Holinstat, talked about her father's long silence.
"There were years where we asked questions, my siblings and I, and asked and asked and we would always get the same answer. "Well, I don't know what I remember and what I think I remember," which my father still says, and that's OK. But there was more to learn, and he really didn't want us digging…. I respected that. But it was very frustrating to be shielded from something that I felt was important to know, and I'm really proud now to know that my father so readily speaks about it."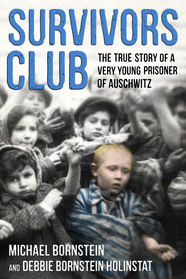 Bornstein came to realize that only by sharing his story could he play a role in educating future generations and keeping the memory of what happened in the Nazi death camps alive. The Survivors Club, a memoir of his imprisonment and life after Auschwitz, was inspired in part by discovering an image of himself as a four-year-old prisoner on a Holocaust denial website. Michael told Publishers Weekly:
"When I saw that, I slammed my hand down. It's ridiculous to make comments like that. Over one million people were killed in Auschwitz alone. But I guess they have an audience. The other reason is that my children and grandchildren implored me to talk about it more."
Michael continued: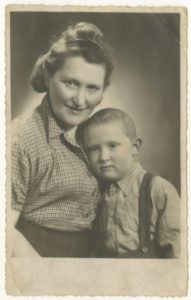 "My mother told a story of what happened at Auschwitz. The normal survival rate for children was about two weeks. But I managed to survive. One reason was my mother. In the children's bunk, the older children were also starving. They took my bread away. My mother came into my bunk, giving me some of her bread and soup. But she was beaten over the head. She showed us the marks on her forehead. There were other instances. When the Nazis came into Żarki, they had a whole family dig a grave. Then they had them huddle together and shot them and put them in the grave. It's startling to imagine, but it happened."
Michael and Debbie will share Michael's story with Iowans as part of their ongoing effort to educate people of all ages, and inspire them to take action to prevent history from repeating itself. When her dad gave her the go-ahead to share his history publicly, neither of them knew how many surprises remained to be learned about his survival. Debbie and her entire family take comfort in knowing that as first-hand Holocaust accounts from aging survivors fade away fast – this story will not.
About Michael and Debbie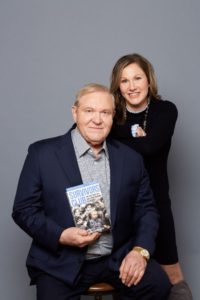 Six years after his liberation, Michael Bornstein immigrated to the United States. Michael graduated from Fordham University, earned his Ph.D. from the University of Iowa, and worked in pharmaceutical research and development for more than forty years. Now retired, Michael lives with his wife in New York City and speaks frequently to schools and other groups about his experiences in the Holocaust.
Debbie Holinstat has spent her career writing for some of the biggest names in broadcast news, including Lester Holt of NBC Nightly News, CNN's Ashleigh Banfield and the Today Show's Natalie Morales. She is also a freelance corporate media coach. But her greatest professional reward has come from writing alongside her own father, Michael Bornstein, as they collaborated on Survivors Club.
Venues, Dates and Times
Book signings will follow each presentation

April 16 at 7:00 pm
Community Yom HaShoah Service
Mount Mercy University Chapel
Cedar Rapids, IA
April 17 at 1:00 pm
Kirkwood Community College
Ballentyne Auditorium
Cedar Rapids, IA
Aril 17 at 7:00 PM
Cornell College
Hall-Perrine of Thomas Commons
Mt. Vernon, IA
April 18 at 1:00 pm
Coe College
Sinclair Auditorium
Cedar Rapids, IA