These are just a few of the stories of Iowans whose lives were change forever by Nazi atrocities. The Thaler Holocaust Memorial Fund seeks to keep their stories alive in our community.
John Gualtier of Cedar Rapids was a 19 year old combat medic with the 71st infantry when he entered the Gunskirchen Lager Concentration Camp in  the spring of 1945.  Gaultier spent a week in the camp, treating the mostly Hungarian jews for dysentery and starvation. "We couldn't feed them too much or it would kill them. We lost so many, even after we got there. They were so far gone."
After leaving the service in 1947, Gualtier married an army nurse and moved to her native Iowa, where he became a successful self-employed handyman. "I was a happy-go-lucky kid from Ohio. What I saw there change my life forever. I still get sick when I think of it. I never got over it."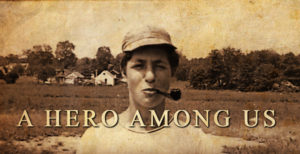 NEWS!
A HERO AMONG US
A film by Brent Watkins
Now, work is underway to produce a feature film that details Sergeant Gualtier's life and the price paid by veteran's of World War II who had to cope with mental health issues before PTSD was known or understood. While a short featurette has already been produced that touches on several key details of John's life, much of his story has yet to be told. With your help, we can tell that story.
——
Although Fred and Ann Gilbert are gone now, their daughter Lena Gilbert of Springville recounted their story to the Cedar Rapids Gazette in 2012
"It's one thing for me to talk about the Holocaust," said Lena Gilbert. "It's another thing for my father to sit there and roll up the sleeve and show the tattoo on his arm that he was given at Auschwitz."
The Polish Jews — Fred from Warsaw, Ann from the smaller town of Szydlowiec to the south were caught in the Nazi pogroms and sent with their families to the camps. They met the day the Dachau camp was liberated in April 1945… They married in 1946 and came to Cedar Rapids three years later, after the birth of Lena's older brother Jack Gilbert. The family was one of several sponsored by Temple Judah.
Editor's Note: Lena and sister Doris Gilbert-Steiger were born in Cedar Rapids.

"It took several years for them to be comfortable with public speaking, but once they made the commitment to become public speakers, they spoke out with a lot of devotion and passion," Gilbert said.
——
Two Cedar Rapids men were among the American troops who were the first to reach the gates of Dachau. A 1992 AP article told their story.
From the road, the soldiers say, it looked like a college campus. Or a religious school.
Up close, Ted Johnson, Henry "Hank" DeJarnette and the other soldiers of the U.S. Army's 42nd Rainbow Division saw the barbed wire and moats. Then they saw the emaciated inmates of Dachau.
"I can truthfully tell you, I was hugged and kissed by living, walking skeletons. Bony hands reaching out to touch me," DeJarnette said.
"We were all a bunch of kids," said Johnson, "a bunch of young guys, and we'd seen enough of death in the months before that you might think we'd be inured to it. But you cannot be inured to that kind of senseless slaughter." The Nazi death camp was liberated on April 29, 1945. Forty-seven years on, some 40 to 50 of the American soldiers are expected to return, along with 500 former inmates.
——
Marianne Bern of Cedar Rapids was a 16 year old music student when Kristallnacht changed her life forever. From the Marshalltown Times Republican
 As a teenager, she narrowly escaped Hitler's Germany on the eve of the great war.
Marianne Bern and her sister fled Nazi Germany for England in 1939 though Kindertransport, a movement to evacuate primarily Jewish children from out of harm's way. At 16, Bern said she was one of the oldest allowed to go.
Bern eventually reunited with her parents. For that, and for her own survival, she considers herself one of lucky few.
—–
The stories of the Gilberts, Marianne Bern, Johnson, DeJarnette, Gualtier and the others who experienced the Holocaust need to be preserved, and the history of the 20th century's darkest hour needs to be taught to future generations.
Save
Save
Save
Save