A HERO AMONG US
Discover the amazing story of Sargeant John L. Gualtier. Excerpted from the feature film "A Hero Among Us," learn how a concentration camp liberator himself became a victim.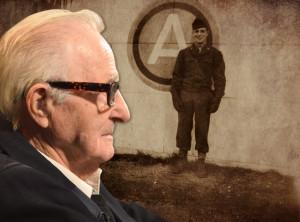 John Gualtier of Cedar Rapids was a 19 year old combat medic with the 71st infantry when he entered the Gunskirchen Lager Concentration Camp in  the spring of 1945.  Gaultier spent a week in the camp, treating the mostly Hungarian jews for dysentery and starvation. "We couldn't feed them too much or it would kill them. We lost so many, even after we got there. They were so far gone."
After leaving the service in 1947, Gualtier married an army nurse and moved to her native Iowa, where he became a successful self-employed handyman. "I was a happy-go-lucky kid from Ohio. What I saw there change my life forever. I still get sick when I think of it. I never got over it."
---
A HERO AMONG US
Film by Brent Watkins
Much of John's story has yet to be told. With your help, we can tell that story. Please consider supporting the production of this film.
Save
Save
Save
Save
Save