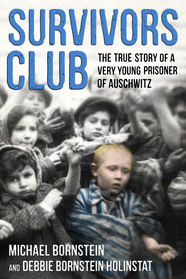 2018 Yom HaShoah
Michael Bornstein
& Debbie Holinstat
The Thaler Holocaust Remembrance Fund is proud to announce our 2018 Yom HaShoah Guest Speakers Michael Bornstein and Debbie Holinstat. The authors of Survivors Club: The True Story of a Very Young Prisoner of Auschwitz will be speaking at various venues in Cedar Rapids and Mt. Vernon, Iowa in April. Dates and times will be announced soon on the website and social media.
About Michael and Debbie
Michael Bornstein survived for seven months inside Auschwitz, where the average lifespan of a child was just two weeks. Six years after his liberation, he immigrated to the United States. Michael graduated from Fordham University, earned his Ph.D. from the University of Iowa, and worked in pharmaceutical research and development for more than forty years. Now retired, Michael lives with his wife in New York City and speaks frequently to schools and other groups about his experiences in the Holocaust.
Debbie Holinstat has spent her career writing for some of the biggest names in broadcast news, including Lester Holt of NBC Nightly News, CNN's Ashleigh Banfield and the Today Show's Natalie Morales. She is also a freelance corporate media coach. But her greatest professional reward has come from writing alongside her own father, Michael Bornstein, as they collaborated on Survivors Club. When her dad gave her the go-ahead to share his history publicly, neither of them knew how many surprises remained to be learned about his survival. Debbie and her entire family take comfort in knowing that as firsthand Holocaust accounts from aging survivors fade away fast – this story will not.
From NBC News