Dr. Jacob Eisenbach
Never Lost Hope for a Better Tomorrow
The Thaler Holocaust Fund proudly welcomes Dr. Jacob Eisenbach as 2017 Holocaust Remembrance Yom Hashoah Guest Speaker on Sunday, April 23rd at 7 p.m. at the First Presbyterian Chruch in Cedar Rapids, Iowa. More speaking engagements are to be announced.
A 93 year old survivor who recently retired from his dentistry practice in California, He also served as Temple Judah Board President from 1970-1971 and was friends with David Thaler.
Jacob Eisenbach retired from dentistry in 2015 at the age of 92, after practicing for 60 years. He immigrated to the United States in 1950 with his wife and first born child. He will discuss his astonishing life while in the grip of Hitler's Third Reich, and how hatred, discrimination and intolerance led directly to the Holocaust. He is the sole survivor of a loving extended family of 100. Torture and mass murders of numerous ethnic groups throughout thousands of years have scarred mankind's history. It is Dr. Eisenbach's mission to eliminate the scourge of genocides from the human race. He will answer audience questions at the end of his presentation.
Additional Information
Jacob Eisenbach speaks to college students atthe Chabad Symposium held at the Cape Rey Hilton, Carlsbad, CA on 2/7/2016.

---
From Kosher OC Magazine
A Large Dose of Optimism
Doctor Has Never Lost Hope for a Better
Tomorrow, Even during the Holocaust
By Ilene Schneider / Photos by Clifford Lester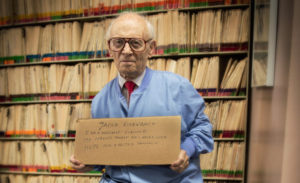 A contagious smile, an ebullient
optimism and a belief that goodness
will prevail keep him going. At 92 Dr.
Jacob Eisenbach works every day,
takes a daily walk of 45 minutes to
an hour and keeps up with the latest
developments in his field of dentistry
and the world around him.
The first dentist in Anaheim Hills, Dr. Eisenbach has been in the same office for 41 years. He is so much more than a survivor; he is someone who can find sweetness in life and hope for tomorrow. With 8 million people on the planet, Dr. Eisenbach believes in the goodness of man. He derives joy in the fact that, in spite of tyrants coming to power and murdering innocent people, positive forces come out on top – and Israel is here to stay.
"When you're at the bottom of a pit, the only place you can go is up," he said. "No matter how dark the day is, the sun will always break through the clouds as long as you're alive. For 5 years, I never knew if I would be alive tomorrow, but I never gave up hope." What gave him strength through the Holocaust was the memory of his mother, who died a year before World War II began, putting her arms around her four children and saying, "You are my greatest possession." It gave Dr. Eisenbach a "tremendous amount of self-confidence." His oppressors "could not destroy that spirit," which gave him optimism and hope, "no matter what may happen." His mother's words "helped me to survive the Holocaust and contributed tremendously to my longevity, because I never lost hope for a better tomorrow."
Dr. Eisenbach, who began attending cheder in Lodz, Poland, starting at the age of 4, was 16 when the war started. He liked to play his soccer with his brothers and enjoy the company of his large extended family. When the Nazis occupied his hometown, which had a thriving Jewish community, they built a ghetto with a barbed wire fence and watchtowers. Many of the Jews in the city, including his older sister, escaped to the Russian part of Poland. By May of 1940 every Jew had to be inside the ghetto.
After his father was deported to Auschwitz, Dr. Eisenbach and his younger brother went into hiding, sometimes in places with no heat. Finally, soldiers found them and took them to a camp where they worked in a munitions factory, inhaling toxic chemicals while grinding bullets. "I heard my mother saying 'Never lose hope for a better tomorrow.' These ideas have been transmitted from generation to generation. Bodies die, but spirits continue to live. My faith became stronger."
As the Nazis were beginning to lose the war, the Nazis moved the factory. Dr. Eisenbach could hear artillery in the background. Finally, the Nazis in the watchtowers vanished, followed by the officers. The next morning the survivors were able to walk out of the camp.
He rode on the roof of a train, tied with a belt, to his hometown and enrolled in the University of Lodz. After postwar anti-Semitic incidents, he left Poland for Frankfurt where he finished his studies.
Thanks to HIAS, Dr. Eisenbach was
able to come to the US with his wife
and son. Eventually, he went to
dental school at the University of Iowa
and practiced in Cedar Rapids for
18 years, moving to Orange County
because of his wife's arthritis. His
wife died a few years ago at the age
of 90. The couple had three sons,
one of whom is deceased. One son
is a doctor in Malibu and the other a
businessman in Costa Mesa. There
are three grandchildren and three
great grandchildren. Dr. Eisenbach
is in touch with other members of his
extended family, also survivors living
a long and productive life, in Baltimore
and Australia.
Dr. Eisenbach reflects on his experiences and longevity, as a book about him, Where You Go, I Go, is about to be published. He keeps busy, working full time. Although he needs 25 hours of continuing education credit per year, he takes 100 to keep up with new trends in surgical implants. He keeps his weight down and takes vitamins. Most importantly, he has a healthy attitude.
He concluded, "I'm an optimist. I have a positive attitude and hope for the future. I miss my family, but I'm happy in spite of my losses. The spirit of my ancestors lives in me."
Save
Save
Save