Lies and Miracles: Childhood in a Siberian Camp
Three screenings upcoming in Cedar Rapids area.
See below for more information including a film review and video excerpt.
Monday
Oct. 29th
Noon – 2pm
Kirkwood Community College
Cedar Hall
6301 Kirkwood Blvd. SW
Cedar Rapids
Monday
Oct. 29th
7 – 9 pm
Mount Mercy University
Busse Viewing Room
Busse Library
1330 Elmhurst Drive NE
Cedar Rapids
Tuesday
Oct. 30th
4 – 6 pm
Coe College
Kesler Hall
1220 1st Avenue NE
Cedar Rapids
Lies and Miracles, a recently created documentary, chronicles the experiences of George Landau and Irenka Taurek.
At the onset of World War II they and their parents were taken from their homes in Poland and sent to Siberia. When finally released by the Soviets, they ended up undocumented immigrants in Uzbekistan and later in the United States. Both grew up to lead exemplary lives, remaining grateful for the simple pleasures in life, for enough food to eat, for shelter. The film includes original art and animation and narration taken from a book by George's father.
George Landau is the nephew of long time Cedar Rapids doctor, David Thaler. George spent many happy summers in Cedar Rapids during his high school years, visiting the home of David and Joan Thaler. The film was produced, directed and illustrated by David Thaler's step-daughter, Nancy Margulies.
There will be multiple showings of Lies & Miracles in Cedar Rapids. Nancy and George will attend each showing and will answer questions afterwards.
---
Excerpt from the film…
---
Note: this is a repost of an article from the Half Moon Bay Review in Half Moon Bay. Ca.
Local filmmaker Sheds Light On Holocaust Survival Stories
By Sara Hayden for Half Moon Bay Review
Last week, 85-year-old George and 87-year-old Henry Landau convened in New York City to honor their parents.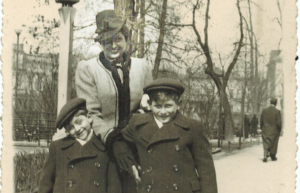 "My brother and I were always very close to our parents as children and later on as adults — and even to this day," George Landau said in a phone call. "When I come to New York from California, we usually go out to the cemetery (in New Jersey) and bring flowers and put pebbles on the grave markers, as is Jewish custom."
April 12 marked their mother's birthday, as well as the anniversary of their family's reunion. In 1942, their father had walked 70 miles through harsh woods where he had fought to survive alongside others who stuffed their shoes with newspaper and chopped trees with two-handed saws. His goal was to reach his two sons and wife by her birthday.
"No birthday gifts, no cake. But we were together again," he recounted in a family memoir.
"May these memories be an inspiration to you in the future so that our suffering should not have been in vain," he wrote to George.
In 1939, World War II broke out as Nazi Germany and the Soviet Union invaded Poland. About 1.7 million Polish people — targeted for their beliefs and class — were deported to slave labor camps in remote Siberia. More than half didn't survive. But Mark and Etta Landau, along with their 7- and 9-year-old sons, did.
The parents are now buried side-by-side, their gravesite bearing their legacy: "Together they saved their family with its ideals."
This is the story that Montara filmmaker Nancy Margulies — George and Henry's cousin — opens up in the new documentary "Lies and Miracles."
In about 40 minutes, interviews with George Landau and family friend and fellow survivor Irenka Taurek, archival footage and Margulies' original art skillfully present an experience that drastically changed the course of lives and history.
"It's a film about survival and finding miracles around very challenging times," Margulies said.
The Half Moon Bay Odd Fellows Hall will host its debut screening at 7 p.m. on Saturday, May 5 at 526 Main St. in Half Moon Bay. A conversation with George, Margulies and her collaborator Ellen Bruno will follow.
"(George is) such an upbeat, positive person, and so grateful for the littlest things in life," Margulies said of her cousin, who lives in Tiburon. "I knew for years that something had happened in WWII to him and his family but … a lot of people who had been in concentration or forced labor camps didn't want to talk about it. It seemed too rude to bring it up." When Margulies did, George Landau was not only open to talking about it, but said it's vital to do so.
"Whenever I get a chance to speak, I try to drill this into people's heads, because frankly we are so complacent," he said.
More evidence of that complacency came on April 9, with a new study commissioned by the Conference on Jewish Material Claims Against Germany. It found that more than 10 percent of American adults, and more than one-fifth of millennials, hadn't heard of the Holocaust at all, or were unsure as to whether they'd heard of it. It also showed that nearly a third of all Americans and more than 40 percent of millennials didn't know that 6 million Jews were killed during the Holocaust.
"I think that particularly with what's going on now, people should ask themselves, 'Could this happen again?' And if the answer is 'yes,' then we have to be very vigilant and go out and vote and participate and make noise — because it can happen," George Landau said.
The lesson is timeless, but also timely, eerily so.
"I write these memories so our story will not be forgotten. This is not the story of our family alone. It is the story of millions during the war, and millions more who suffer such hardship and sorrow this very moment," Mark Landau wrote decades ago.
The film cuts between footage of World War II, which started nearly 80 years ago, and images from today as millions more face strife at home in Syria, Burma/Myanmar and Afghanistan.
Bruno, Margulies' collaborator, said she hopes audiences walk away from the film with a sense of optimism in the face of struggle.
"Having examples like George and Irenka is critical. They're necessary guides for us, in our own lives and the ways we struggle, but also as a country. Really, it's a global story. Every human struggles, every human suffers. We need positive examples of guides in order to move through it and know that good things are possible, that people are good," Bruno said. "It's a reasonable optimism in my perspective, but we need guides, we need teachers. Survivors become our teachers."
The documentary sparkles with such instances. Viewers hear of George and Irenka's parents having nothing yet finding a way to give something to strangers so they, too, could survive, their courage in standing up for what they believed at the risk of punishment, the gratitude and desire to serve others that they instilled in their children.
"They taught us how to be human beings during a time when human beings were turning to their more animalistic instincts. (They taught us to be) moral, ethical and truthful, and work for things and be charitable," Landau said. "Our parents told us to be of service to ourselves and others, a trait that both my brother and I have. We're a service people. They showed us by their example."
Their perseverance in being hopeful for the future outweighed the temptation to succumb to the despair of the present.
Margulies shared a quote from the late Holocaust survivor and Nobel Laureate Elie Wiesel that appeared in a 1981 New York Times article.
"'Out of despair, one creates. What else can one do?'" she wrote in an email. "'As Camus said, 'In a world of unhappiness, you must create happiness.'"
---
Grateful thanks to Barb Anderson, publisher of Half Moon Bay Review for allowing us to repost this film review.