ED WITTENBERG | STAFF REPORTER
ewittenberg@cjn.org
When Mona Golabek was a child, her mother – a Holocaust survivor – told her something that made a lasting impression on her.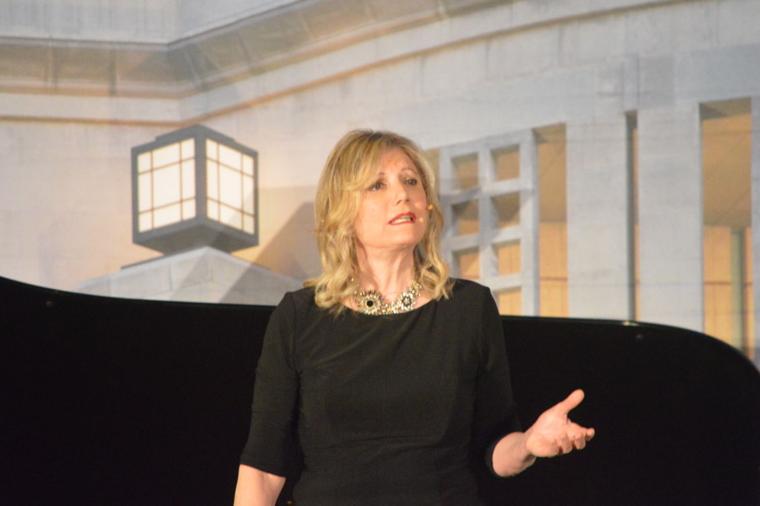 "One night when she was putting me to sleep, she looked into my eyes and said, 'Mona, never forget that your grandparents died in the ovens,'" Golabek told a crowd of about 500 at the U.S. Holocaust Memorial Museum's fifth annual Cleveland luncheon May 18 at Executive Caterers at Landerhaven in Mayfield Heights.
"I was just a little girl, but she needed to tell me that. She needed not to be alone with her unspeakable pain."
In that moment, Golabek said, her mother, Lisa Jura – a musical prodigy from Vienna who dreamed of playing Edvard Grieg's "Piano Concerto in A Minor" in concert – set the path for her life. Golabek, who was taught piano by her mother, became a concert pianist.
"Just as she kept her promise to her mother and walked out on the stage and fulfilled her dream, I walked out on the stage and told the story of my mother," she said. "I paid tribute to her, and I paid tribute to every mother and father who had the courage to save their child by saying goodbye. And I pay tribute to this extraordinary museum."
The event was a fundraiser for the museum's $540 million national campaign, "Never Again: What You Do Matters."
Golabek performed an excerpt from her one-woman show, "The Pianist of Willesden Lane," in which she recently starred at the Cleveland Play House. She interspersed her talk about her mother's escape from Vienna at age 14 via the Kindertransport with powerful classical pieces she played on a Steinway piano.
"The Pianist of Willesden Lane" was based on the 2003 book, "The Children of Willesden Lane," in which Golabek and co-author Lee Cohen told her mother's story. Golabek signed copies of the book after the program.
Another highlight was the presentation of the museum's National Leadership Award to Tamar and Milton Maltz, the first Clevelanders to receive the award. The Maltzes founded the Maltz Museum of Jewish Heritage in Beachwood and support many philanthropic interests through the Maltz Family Foundation.
Museum director Sara J. Bloomfield, a Shaker Heights native who presented the award to the Maltzes, described them as "two individuals who have worked hard to make changes in the world."
"They are idea generators, endlessly seeking new ways to solve old problems," said Bloomfield, a 1968 graduate of Shaker Heights High School. "They are what I call 'tikkun olam (repairing the world) on steroids,' always thinking about the next idea that can benefit mankind."
Milton Maltz said a serious issue confronts the Jewish world: "Many Jewish (college) students are supporting Palestinians as victims."
"What can museums do?" he asked. "We have the tools to tell the unbiased truth concerning Israel and the Jewish people.
"The (U.S. Holocaust Memorial Museum) is the very heartbeat of all the Jewish museums in this country, and we are committed here in Cleveland to work with you on many future projects."
Roman Frayman, a Holocaust survivor from Poland who lives in Beachwood, told his story of survival and encouraged support of the museum's campaign because "it's so imperative the Holocaust is never forgotten."
Other speakers included Jed Silberg, deputy director of the museum's Midwest regional office, David Heller and Chuck Ratner. Heller and Ron Ratner served as co-chairs of the event, but Ron Ratner was unable to attend, so his brother, Chuck, spoke in his place.
Six students from Mark Sack's Lessons of the Holocaust class at Cleveland Heights High School asked all Holocaust survivors and liberators in attendance to stand so they could be recognized. The students also asked everyone to hold up flameless candles, placed at each table, as part of their pledge to keep the memory and the truth of the Holocaust alive after the survivors and liberators are gone.
Source: Cleveland Jewish News