The Thaler Holocaust Remembrance Fund welcomes back to Eastern Iowa Yom HaShoah Guest Speakers, Michael Bornstein and his daughter, Debbie Holinstat in March 2020. The authors of Survivors Club: The True Story of a Very Young Prisoner of Auschwitz.
The authors will be speaking at various venues in Cedar Rapids and Mt. Vernon, Iowa, in April. Books will be available for purchase at the book signing before and after the presentations at Coe College, Cornell College and Mount Mercy University.
For 70 years, Holocaust survivor Michael Bornstein chose to stay silent about his story. He spotted the photo of his four-year-old self on book covers, museum walls and even in news footage used on major news networks every year as they acknowledged Holocaust Remembrance Day. Yet he was nervous about stepping forward to identity himself as the boy in the footage from Auschwitz because there was so much he could not remember. Then a document was discovered at a museum in Israel that revealed a stunning detail about his survival. Michael knew he had to share what he'd learned.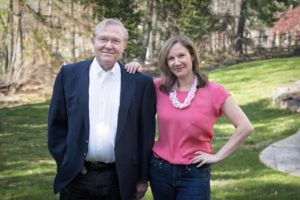 Together with his daughter Debbie Bornstein Holinstat, a broadcast news producer who started her career in Iowa in the 1990s, they began to dig for more information and planned to write a book. But even they never guessed the family secrets they would uncover as they researched their book, Survivors Club.
Location Note: 234 Cedar Hall Auditorium