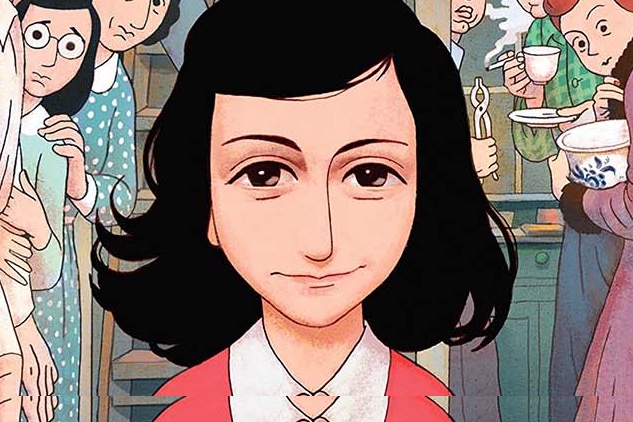 EXHIBITION SPOTLIGHT: Anne Frank
A Virtual Zoom Event
March 9, 2022
1pm – 2pm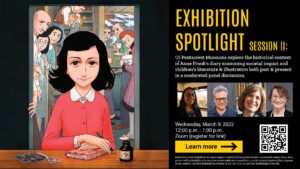 The University of Iowa Pentacrest Museums explores current exhibition Let Me Be Myself: The Life Story of Anne Frank through the Exhibition Spotlight program series in a special two-part virtual panel event. Pentacrest Museums Director of Education & Engagement, Carolina Kaufman will moderate discussion with panelists on a variety of related topics to share the story and legacy of Anne Frank and her impact on society. These sessions will illuminate how Frank's story has inspired new approaches in the teaching of difficult topics and themes in accessible and relevant ways that learners of all ages can identify with including exhibitions, workshops, seminars, children's literature, and more.
Session II explores a wider lens on the historical context of Anne Frank's diary and diary writing as a whole, examining societal impact and children's literature both past and present. Discussions will feature David Polonsky and his award winning graphic illustration work for the Graphic Adaptation of Diary of Anne Frank and Nancy Churnin, an award-winning Children's Author. Dr. Waltraud Maierhofer will provide introduction to the history of diaries in literature followed by a moderated conversation with Polonsky and Churnin who took inspiration from Anne Franks life and diary in their own literary and illustrative work, extrapolating themes of identity, coming of age, expression, mental health, racism, prejudice, resilience, and social justice.
REGISTER for free to receive webinar link access HERE.
Moderator: Carolina Kaufman – University of Iowa Pentacrest Museums Director of Education and Engagement
Session I Panelists: 
---
Guests may register for Session I and Session II of this series for free to receive webinar link access.
Let Me Be Myself: The Life Story of Anne Frank, now on display at the Old Capitol Museum, connects Anne Frank's life story with the present and makes the fate of the millions of victims of the persecution of the Jews during the Second World War personal and palpable.
The exhibition is presented as the Provost's Global Forum (2021), organized by University of Iowa International Programs in partnership with a variety of campus faculty & interdepartmental support.
Exhibition Spotlight is an ongoing program series dedicated to educational illumination of an aspect of current exhibits featured at the University of Iowa Pentacrest Museums. A variety of webinars, interviews, panel discussions, special performances,  artist profiles, behind-the-scenes process examinations, and more, this series will take a closer look at the changing exhibits we offer.
Wednesday, March 9, 2022 12:00pm to 1:00pm
Individuals with disabilities are encouraged to attend all University of Iowa–sponsored events. If you are a person with a disability who requires a reasonable accommodation in order to participate in this program, please contact Carolina Kaufman in advance at 319-467-3130 or 

[email protected]

.