JASON COHEN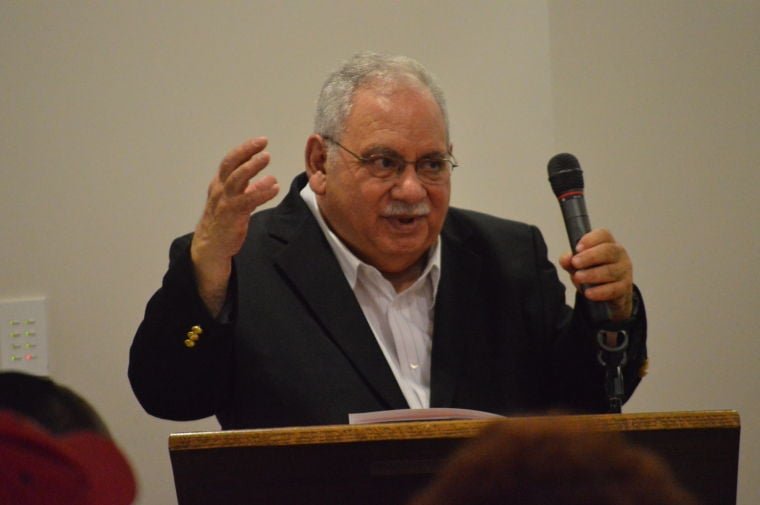 Oheb Zedek-Cedar Sinai Synagogue in Lyndhurst held a series of events July 19 and 20 in which the synagogue recognized its 22 members who are Holocaust survivors. Mark Talisman, president of the Project Judaica Foundation, based in Washington, D.C., was featured speaker at a July 20 breakfast.
Talisman, of Chevy Chase, Md., formed the Project Judaica Foundation with his wife, Jill, in 1983 and has been its president since. He said it stages world-class exhibitions with Judaic themes around the world.
Talisman said it's important to honor survivors, but there could have been many more had America let Jews into this country. Anti-Semitism was not limited to Germany, he said.
"We can say 'never again,' but it is another matter to make it happen," he said. "Oh, how history could have been different if the United States hadn't redacted."
There are 551,000 survivors living in poverty who need assistance, Talisman said.
"They're going to die without getting out of poverty," he said.
The situation in Gaza shows the world is still filled with people who want to destroy the Jewish people, he said. Instead of protecting people, Hamas uses them as shields, he said.
"I have to tell you that we are failing and we are still failing," he said. "It's not a way to run a country."
Joe Klein, a South Euclid resident and member of the shul, is a Holocaust survivor who said he appreciated Talisman speaking at the shul. It was great to see so many survivors at the event, he said.
"It's something that must be remembered for the benefit of humanity," Klein said.
Richard Dutro, of Lakewood, was a member of the U.S. Army's 42nd Infantry who liberated the Jews from Dachau during the Holocaust. It was the most horrific experience of his life, he said.
"It's never left my mind," Dutro said.
From 1963 to 1975, Talisman served as chief of staff to former U.S. Rep. Charles Vanik, a longtime Democratic congressman from Cleveland. In 1975, Talisman created the Washington Action Office for the Council of Jewish Federations of North America and served as its director for 18 years.
In 1980, Talisman was appointed founding vice chairman of the U.S. Holocaust Memorial Council by then-President Jimmy Carter, who appointed renowned author and Holocaust survivor Elie Wiesel as chairman. The 60-member council was established to lead the nation in commemorating the Holocaust and to raise private funds for construction of the U.S. Holocaust Memorial Museum, which opened in 1993.
Talisman continues to serve on the museum's committee on conscience and to work with the Claims Conference on behalf of Holocaust survivors.
A graduate of John Adams High School in Cleveland, Talisman earned bachelor's and master's degrees from Harvard University in Cambridge, Mass. While growing up, he and his family were members of Temple Emanu El, then in University Heights and now in Orange.