By Ken Brack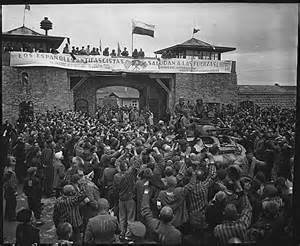 Rounding age 92, Nathan Offen sounded slightly perturbed when rain canceled his tennis match this morning.
After missing his favorite outlet for about 18 months, a platelet-rich plasma treatment that Offen has been receiving in Florida seems to have paid off. "It didn't cure me, but it took away most of the pain in my left knee," he said in a gravelly voice. Renowned just a few years ago for mashing down younger opponents on the court, he's been able to play doubles again a few times this spring.
Offen is a Holocaust survivor who was liberated from Mauthausen 70 years ago today. On the verge of starvation, he weighed 50 or perhaps 60 pounds. He could barely feel the sores all over his body, and a respiratory infection was spreading as he tried to recover from a beating.
Looking out a small window from his rancid, second-tier bunk, the sun shining into his eyes, Nathan heard the rumble of vehicles. A few tanks with big white stars and half-tracks approached the gate, a platoon of the Eleventh Armored Division that came upon the concentration camp in Upper Austria by accident.
He and his older brother Sam were liberated by the 41st Cavalry Reconnaissance Squadron, Mechanized, on May 5, 1945. The Offens' younger brother Bernard was on a forced march from Lansdberg-Kaufering, a sub camp of Dachau near Munich, when German soldiers disappeared May 2, and he found some American GIs nearby.
Nathan Offen tries to not complain about much these days.
The tailor burst out crying, telling Helen, "My family is now complete."
He's thankful for more than having survived the Shoah. Nathan and his two brothers each endured slave labor at several concentration camps while more than 50 of their relatives were murdered.
The Offens grew up in Kraków, Poland, and each of the brothers came to the United States in 1951. Sam Offen settled in Detroit, raising a family and becoming a successful furrier, while educating thousands of students and adults across Michigan and the Upper Midwest about the Holocaust. He died in 2012.
Bernard Offen, who spends half the year in Kraków, is a documentary film maker who continues giving tours of the former ghetto and nearby camps, including Auschwitz, which he also survived.
Nathan raised three daughters in New Jersey and worked mostly as a pattern maker in New York City's garment district. Like each of his brothers, while confronting his memories later in his life, Nathan decided to remind the world in occasional talks and by writing a memoir.
"I am just grateful that I am still alive and can tell my story, that I am a witness to it," he told me, speaking from his condominium in Delray Beach. "I am still alive, and my memory is still pretty good."
He still knew that for both of them, their liberation came at a great cost.
Here is another searing piece of his story, which Offen recently shared for the first time to a full house of seniors at his assisted living complex. It is actually an account from his late wife Helen, of her tormented flight before her own liberation in Poland.
Helen Goldberg grew up just east of Kraków in a small city called Dabrowa Tarnowska. An orphan who was raised by her grandmother, she slipped out of the ghetto during the winter, perhaps before the liquidation of Dabrowa began in earnest in mid-1942. She was not yet an adolescent.
Lacking good shoes, she ran off to some neighboring farms, going from village to village. Yet no one would shelter her. Fearing for their own lives because she was a Jew, families chased and pushed Helen away, while others beat her. Freezing and hungry after wandering for several days, she felt ready to give up. Helen crept into a stable one night and fell asleep in some hay.
When the farmer came in to check his animals, he found her there, lifting the nine-year-old up and bringing her inside. He sat her on the stove, giving her some warm milk, and told her she could stay. With her sandy hair color, blue eyes and light skin, she could pass for his niece, a refugee from another area who had recently died.
Helen would have to work hard–rising early to milk, tend the cattle, clean house and weed the crops, while taking care of the farmer's ill wife, whose life was fading. A local priest must have acquiesced because she went to church and learned Christmas carols.
Occasionally German soldiers visited the farm to have a uniform sewn by the farmer's son, who was a tailor, and Helen stayed hidden there until a year after the war ended. She later told Nathan that her mother came to her in a dream and told her that she should return to Dabrowa. She did, and upon finding a cousin there, Goldberg learned that a rabbi from London was taking orphaned children to England. She did not return to the farm.
Nathan met her after the war in London, where a family had taken him and his brothers in. He was learning English at night school, and to compensate for a shortage of books, Nathan's teacher paired students from the same country together. He found himself next to a petite blonde girl, who while quite pretty, was obviously much younger than him, and very shy. At first he tried to ignore her, but they got to talking.
After class one night Nathan asked her if she'd like to get a cup of tea. They ordered the only item on the menu, toast with beans, along with a fresh pot.
He told a little joke, maybe that night, or perhaps nie: With two Poles together we thought we could create a telephone company–we have two poles already. They fell in love and were engaged by 1950.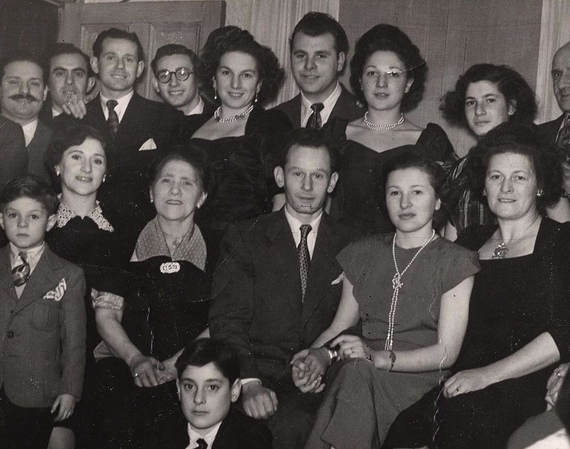 Nathan and Helen Offen's engagement in London, 1950 (middle row, third and fourth from left). Nathan's brothers Sam and Bernard are in back row, second and third from the left.
Almost 40 years later, in 1989 Nathan needed to make good on a promise to his wife. They had talked about going back to Poland in hopes of finding the farmer's family. A few years earlier Helen was treated for breast cancer, and she had begun feeling sick again; they learned it had metastasized and was spreading up her spine. He knew it was time to return.
The couple traveled with a group of friends to Kraków before setting out on their own. Reaching her native town, Helen located her old neighborhood easily enough. Yet perhaps because she could neither read nor write as a child, Helen didn't recall the last name of the farmer or his wife. Neither did the name of their village where she had hid resurface. Instead, her main clue was knowing that the farmer's son had been a tailor. With that kernel of information, instinct began guiding her search.
Helen had an inkling that something would jar open by walking the streets, and she picked up the direction she had taken to escape the Dabrowa ghetto. They headed west in a taxi, eventually towards a village called Olesno. Going door to door, she and Nathan asked residents how long they had lived there, and if anyone knew a tailor. Following their second good lead, the cab passed a church and she suddenly told the driver, "Yes, I know this place," giving directions to the farmer's house.
Driving into the yard, Nathan saw a small woman walking with a cane, her head bowed towards the ground. His wife approached her, bending down, and the woman cried, "Helenka!"
Nathan felt his heart beating fast.
The woman's husband, Ignac Szadowic, was the tailor, the oldest man left in the village. His father had passed some years before. He burst out crying, telling Helen, "My family is now complete."
Helen and Nathan followed Ignac and Janina into their house. They were poor, and she was obviously ill. As they spoke of the past Nathan tape recorded the conversation. After visiting, the Offens left them some money to help with medical expenses.
Some weeks later, Janina wrote Helen a letter, saying, "I remember you as a little girl, the orphan with the sad face. I understood your pain and I treated you like my own daughter … I knew the risk we were taking since my husband is a tailor and the Germans were coming all the time to have their uniforms fixed. I was afraid very much, but God gave us strength, and we all survived."
Helen died in 1991, but there was at least one more piece of her ordeal to reveal. Before the farmer's kindness, and the family's humanity, Helen had narrowly escaped an atrocity in Dabrowa.
In the center of the city there was a synagogue. Many Jews were rounded up inside, and the shul was set on fire. Somehow Helen managed to escape earlier.
Nathan had never spoken of this before publicly. He focused his talk on his late wife, and how Christians had risked their lives doing a good thing. He broke down, choking back tears, trying to catch himself. Offen believes she was among the very few, if any, to survive.
He still knew that for both of them, their liberation came at a great cost.
Ken Brack (http://is a narrative nonfiction author. This article is an adapted excerpt from his forthcoming book, The Ten-Year Quilt, which chronicles the Offen brothers' survival and how each confronted their trauma decades later.
Notes
"The woman's husband, Ignac Szadowic …" Janet DeStefano. "A Journey of the Heart: Couple Finds WWII Saviors." The Record (Bergen, N.J.) October 4, 1989.
"Some weeks later, Janina wrote …" Ibid.
Other sources:
Nathan Offen, To Life. Xlibris Corp. 2009; Interviews with the author, 2010-15.
Jan Grabowski, Hunt for the Jews. Indiana University Press, Bloomington, Ind. 2013. Page 32.
Follow Ken Brack on Twitter: www.twitter.com/unspeakablegift